A quantum leap, quantum physics, marine, CO2, mega storage protocol can exceed rising sea levels . One of the worlds most prestigious labs witnessed biblical coral and other aquatic life regeneration by the Romanian climate Tesla. This climate Tesla currently holds 900 patents as well as 52 global patents and his name is Ioan Davidoni. Island nations could be safely uplifted into a "Think un sink" action plan with his guidance.
Time, 06/24/19 detailed the challenge. Only the quantum  science, finance science, finance solution has a proven oceanic scale solution.
Barbados Prime minister, Mia Motley cited the moral duty of all leaders from mayors, to kings, to climate proof island nations and even decentralized all financial institutions in Barbados. Our quantum ocean currencies are the new true blue quantum age ecology economy.
see pridenews.ca 9/11/19 -http://pridenews.ca/2019/09/11/climate-change-will-defeated-humanity-no-choice-says-barbados-pm-mia-mottley-geneva/
Bellwether state's temperatures rose so fast that the existence of all island nations is unlikely with sea level changes. Quantum era science innovation.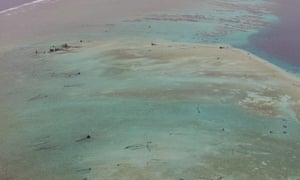 The goal is to mastermind the 15 nations stop temperature rise over 1.5 degrees C by 2100. The quantum leap solution may reach that goal by 2040. Please only serious inquirers with brief bios and succinct queries will be replied to by texting only 936-718-2747